Ekspresikan Diri Dengan NYX Avant Pop! Eyeshadow Palette
Terinspirasi dari pop art, NYX tawarkan serangkaian eyeshadow palette dengan warna-warna ceria yang cocok dengan tren Spring Makeup. Setiap eyeshadow palette terdiri dari 10 warna dengan berbagai macam finish look. Pilihan warna dari NYX memungkinkanmu untuk ciptakan berbagai macam makeup look hanya dengan satu palette.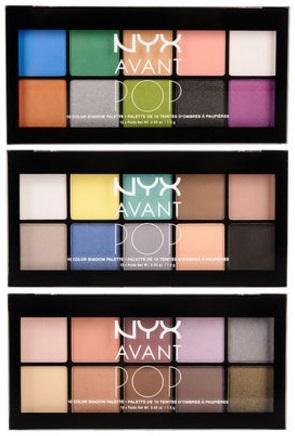 Warna-warna yang ditawarkan NYX Avant Pop! EyeShadow Palette cenderung serbaguna, karena dapat membantumu untuk ciptakan makeup natural hingga dramatic look.
Pilihan Warna
Art Throb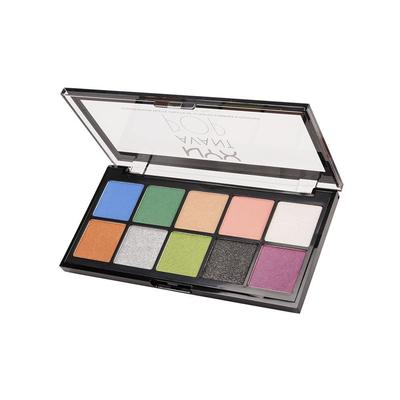 Atas (kiri ke kanan): True Blue, Green with Silver Shimmer, Pale Gold, Matte Baby Pink, White with Shimmer
Bawah (kiri ke kanan): Carrot Orange with Gold Shimmer, Metallic Silver, Lime Green with Iridescence, Black with Shimmer, Fuchsia with Pearl
Surreal My Heart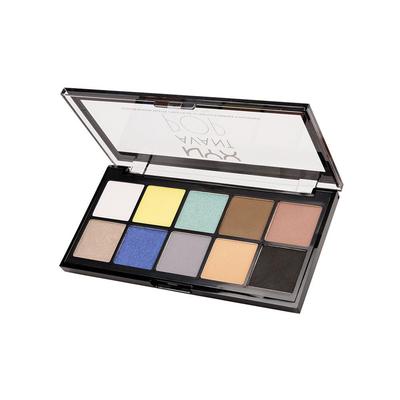 Atas (kiri ke kanan): Shimmery White, Mint with Pearl, Electric Lime Green, Light Brown, Taupe
Bawah (kiri ke kanan): Opalescent Light Grey, Cobalt Blue with Pearl, True Matte Grey, Matte Pale Peach, Matte Black
Noveau Chic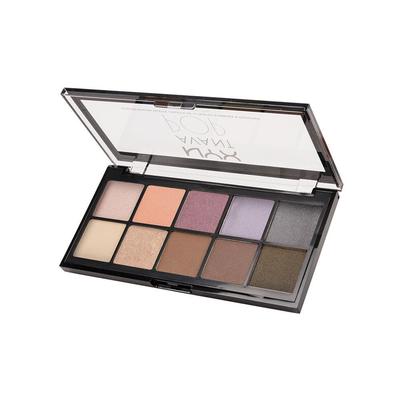 Atas (kiri ke kanan): Pale Pink with Shimmer, Matte Terracotta, Plum with gold Shimmer, Opalescent Lavender, Gunmetal Grey with Shimmer Bawah (kiri ke kanan): Matte Light Beige, Rosegold, Matte Dark Brown, Deep Taupe, Black with Gold Shimmer
Review
Noveau Chic bisa menjadi pilihan jika kamu mencari warna yang cenderung netral.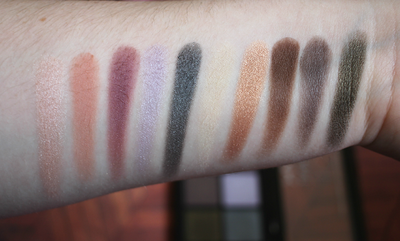 NYX Avant Pop! memiliki warna yang sangat pigmented dan tekstur yang creamy, sehingga mudah diaplikasikan dan warna bisa ditransferkan dengan mudah ke permukaan kelopak mata.
Most of the shades were extremely pigmented and very easy to blend. I did notice a couple of them did lack some pigmentation though, so for the swatch I did have to go over a few swipes. You can see the light lilac shade didn't have as great pigmentation as well as the first shimmery light pink shade. But other then those two shades, the rest turned out great.
source: http://www.weloveswatches.com/2015/07/nyx-avant-pop-nouveau-chic-shadow.html
The shimmer shades are super soft and buttery with effortless glide on the skin. The matte shades feel a little bit drier but are still very pigmented.
source: http://www.budgetbeautyblog.com/2016/04/nyx-avant-pop-eyeshadow-palette-nouveau.html
Meskipun eyeshadow dari NYX ini memiliki warna yang pigmented, disarankan untuk mengaplikasikan primer sebelum penggunaan agar warna eyeshadow lebih tahan lama dan tidak mudah luntur.
Wear is great, too but of course you'll want to make sure you put a base or primer underneath like I suggest with all shadows (unless they specifically say you don't need one) to ensure all day wear without fading or creasing.
source: http://www.thestyleandbeautydoctor.com/2015/07/nyx-avant-pop-surreal-my-heart-review-swatches-dark-skin/
Review ketiga palette dari NYX Avant Pop! Eyeshadow Palette juga bisa kamu saksikan lebih detil melalui video dari Modesty Jean berikut.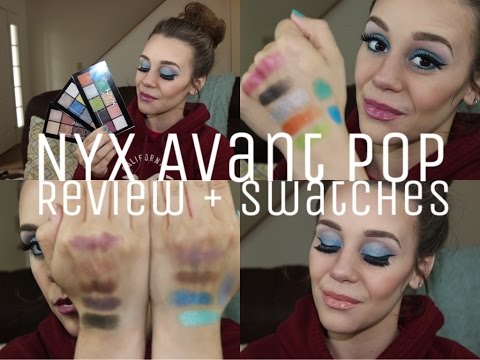 source: https://www.youtube.com/watch?v=EMIVDLbpGOA
NYX Avant POP Color Palettes Review + Swatches