Urban Decay Naked Palette
Urban Decay Naked Palette terdiri dari 12 bronze hued shade yang memiliki Pigment Infusion System yang membuat masing-masing shade mengikat pigmen warna dengan sempurna ketika diaplikasikan. Perpaduan komponennya membuat shade berpadu dengan sempurna, seperti kilau yang terus melekat, warna yang tahan lama, tekstur yang halus dan juga perataan yang lembut. Dilengkapi dengan kaca kecil dan double-ended blending brush untuk pengaplikasian.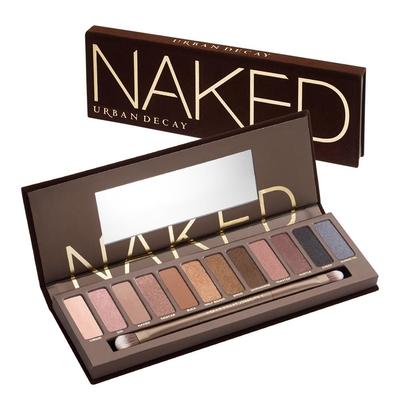 Berikut shade-nya:
Virgin (cool pale beige shimmer)
Sin (champagne shimmer)
Naked (nude matte)
Sidecar (beige shimmer w/silver micro-glitter)
Buck (fawn brown matte)
Half Baked (golden bronze shimmer)
Smog (deep coppery bronze shimmer)
Darkhorse (deep mocha shimmer)
Toasted (antique copper penny shimmer)
Hustle (plum-brown satin)
Creep (onyx shimmer w/gold sparkle)
Gunmetal (dark metallic gray shimmer w/silver micro-glitter)
Kata Mereka yang Telah Mencoba
Formulanya lembut dan berpigmen. Merupakan palette sempurna untuk menciptakan berbagai kreasi, namun varisi warna matte-nya masih kurang.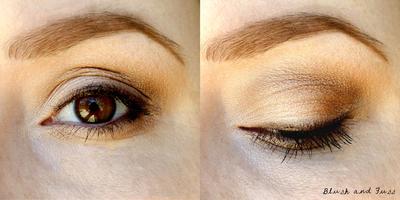 PROS:

Good for creating a variety of looks
Warm toned neutrals
Formula is soft and blendable
Very little fall-out
Great pigmentation
Included eye shadow brush

CONS:
Packaging: I prefer the metal and snap closure design of Naked2 and 3 much more. The Naked palette is easily damaged and scratched.
Not enough matte shades.
source: https://blushandfuss.wordpress.com/2014/05/06/urban-decay-naked-naked2-and-naked3-palette-reviews-and-comparisons/
Shade-nya sesuai dengan tone kulit namun kacanya terlalu kecil.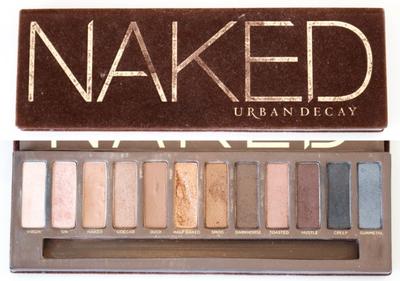 Pros: the eyeshadows are tightly secured; it contains the most wearable shades for my skin tone.

Cons: the magnetic closure is not secure enough; the mirror is too small; the lack of a matte black eyeshadow.
source: http://www.ysislorenna.com/2014/05/urban-decay-naked-palette-overview-comparison.html
MUA Makeup Academy Undressed Palette
Jika produk sebelumnya dirasa lebih mahal, kamu bisa melihat produk berikut ini. Kamu bisa mendapatkan MUA Makeup Academy Undressed Palette pada range harga Rp100.000. Jauh lebih murah, bukan?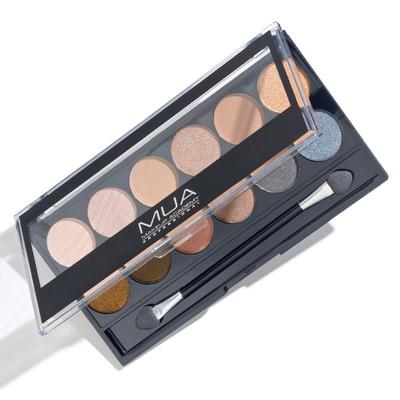 Produk ini juga memiliki 12 shade. MUA Undressed Palette memiliki kombinasi shade yang terdiri dari nude shimmer dan matte. Untuk menciptakan warna makeup mata yang natural dengan shade yang berpigmen tinggi, palette ini bisa menjadi alternatifmu.
Kata Mereka yang Telah Mencoba
Dark matte shade nya sedikit susah di-blend, namun beberapa warna matte yang lebih terang memiliki tekstur yang buttery sehingga lebih mudah digunakan.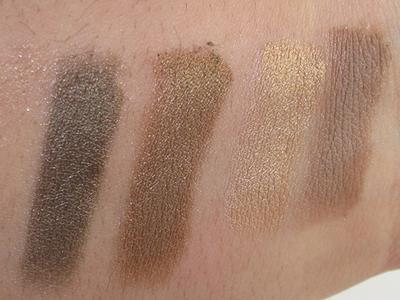 I don't particularly like some of MUA's darker matte shades as I find them a bit difficult to blend and they always look patchy on me. The lighter mattes always seem to have a better formula with a buttery texture and an easy to apply formula. So mattes are a little inconsistent for me.
source: http://www.musingsofamuse.com/2013/02/mua-makeup-academy-undressed-eyeshadow-palette-review-swatches.html
Palette yang serba keren, dilihat dari shading dan juga harganya.
I am actually going to keep this short but very sweet to be honest as there is nothing and I mean nothing bad to say about this palette :) Its amazing The quality of these shadows are amazing the value is amazing the dupes of the Naked palette amazing.
source: http://ninasbargainbeauty.blogspot.co.id/2014/04/mua-undressed-palette-review.html