Kandungan dan Keunggulan
Etude House Moistful Super Collagen CC Cream adalah produk CC Cream yang diklaim mampu memberikan kelembapan. Mengandung 30 persen kolagen yang dapat membantu menjaga kekencangan kulit. CC Cream ini mampu menjaga kelembapan kulit karena mengandung ekstrak Baobab sehingga kulit tidak akan kering. Ekstrak niacin amide nya mencerahkan dan menghaluskan kulit.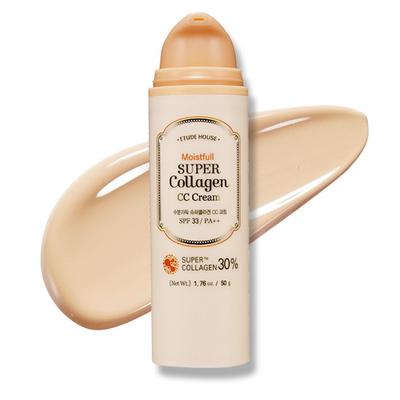 Tak hanya itu, selain berfungsi untuk meratakan warna kulit, produk ini juga mengandung SPF sehingga dapat berfungsi untuk melindungi kulit dari dampak buruk sinar matahari.
Tekstur dan Kemasan
Teksturnya halus dan lembut serta ringan (tidak terlalu pekat) sehingga dapat dengan mudah menyatu di kulit ketika diaplikasikan. Etude House Moistful Super Collagen CC Cream dikemas dalam ukuran botol 50 gram. Produk ini tersedia dalam 2 shade warna, yaitu N02 (Light Beige) dan W13 (Natural Beige).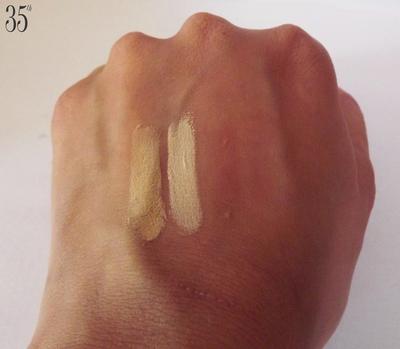 Cara Pakai
Pemakaian krim ini yaitu setelah memakai makeup dasar. Tuangkan secukupnya ke telapak tangan lalu ratakan dengan jari ke seluruh wajah. Tepuk-tepuk ringan agar lebih meresap.
Pros
CC Cream ini mampu meratakan warna kulit dengan baik sehingga wajah akan terlihat natural. Selain itu juga melembapkan.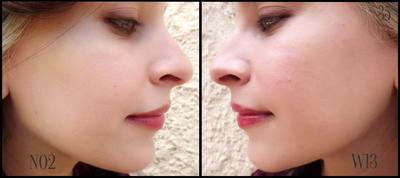 The color adaptation abilities of this are quite wonderful!
I tanned a little while in France so shade N02 was a little light but W13 was still a little dark, but in the photos (or real life for that matter) the difference of the shades were not noticeable.
If you have normal or dry skin I think this CC Cream will be a godsend to you!
It is super hydrating and the coverage powers are really decent.
It looks very natural and the color does somewhat adapt to your own skin tone.

source: http://35thofmay.blogspot.co.id/2014/07/mother-reviews-etude-house-super.html
A little goes a long way.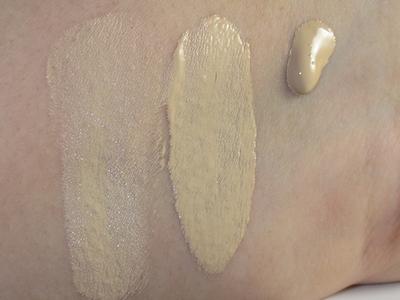 Once applied it leaves behind a flawless finish with a soft, satiny dry down. I do suggest applying a small amount and building slowly for the best finish as applying too much you'll notice it gives a fairly in your face, "Hi how are you? I'm wearing makeup! Elook. So build it slowly as you go! I find a tiny dot on each cheek blended out is all I need for my entire face.
source: http://www.musingsofamuse.com/2014/04/etude-house-moistfull-super-collagen-cc-cream-review-swatches.html#ixzz3wS3vOy66
Cons
Meksipun CC Cream ini mampu memberikan finishing yang memuaskan, namun sayang karena kurang begitu tahan lama sehingga mudah luntur.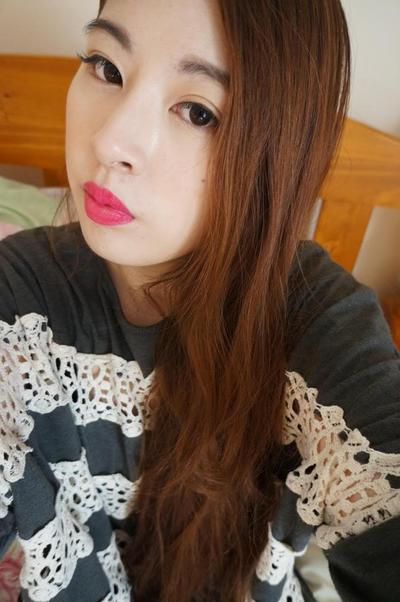 As for the finish - I both love and hate it. The finish looks really lovely - it makes skin look brightened, fresh, and radiant, which I just adore. But, and it's a big but, the finish is quite moist, shall we say? And by moist I mean it smudges really easily, and as a result isn't particularly sweatproof or longwearing. You absolutely cannot touch your face as it will just smear T_T
source: http://www.kawaiibeautycorner.com/2014/05/etude-house-moistfull-super-collagen-cc.html
It would have also been helpful if the consistency was less thick, a little less creamy, and more hydrating as after all this is formulated for drier skin! I didn't feel like it was actually all that moisturizing.
source: http://www.musingsofamuse.com/2014/04/etude-house-moistfull-super-collagen-cc-cream-review-swatches.html#ixzz3wS4FPl23