Apa Sih Celine Bag Itu?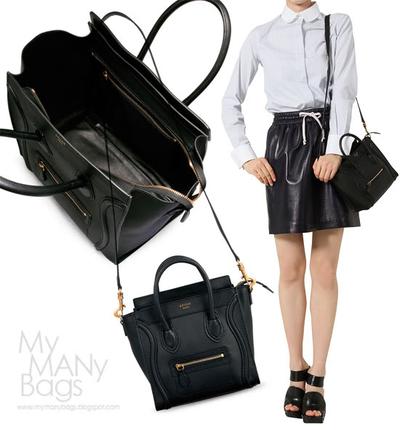 In the past few years, no bag has gained the quick and steady popularity of the Celine Luggage Tote. The bag reached mass It Bag hysteria in 2011 and has yet to to waiver from the pedestal everyone has placed it on. In fact, you can see this bag on the arms of basically everyone, actresses, reality stars, style bloggers and fashion insiders alike. A day hasn't gone by in a long time in which I haven't seen a version of the Celine Luggage Tote.
source: http://www.purseblog.com/celine/purseonals-celine-nano-luggage-tote/
Ukurannya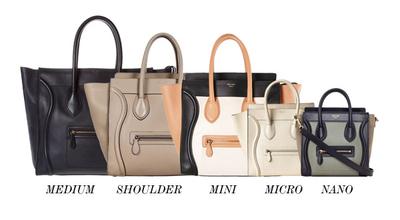 Harga Terbaru 2015
PRICE LIST CELINE BAG 2015
URL: http://www.spottedfashion.com/celine-bag-price-list-reference-guide/

Review
Celine totes may not be new to the market, but they are all over the Paris, London, New York and Milan streets looking classic, chic, and effortless. They may come with a daunting price tag, but they're surely another investment item that you can proudly add to your list.
source: http://www.thehandbagconcept.com/2013/02/celine-luggage.html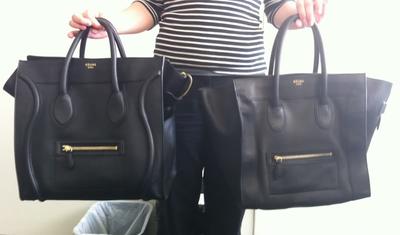 between the mini and small there's not much difference in my opinion... my friend has a mini and I have small size I can take a photo of them side by side but I will only see her next Wednesday so.. I don't know if you still want it by then... I've got slightly different info from different source about small and mini measurements but my SA told me my small is 34 x 31 x 18 cm... and the mini generally SA say 30 x 30 x 17 cm... so roughly around 4 cm difference in length and width and 1 cm difference in depth
source: http://forum.purseblog.com/celine/celine-luggage-tote-mini-small-and-medium-together-638252.html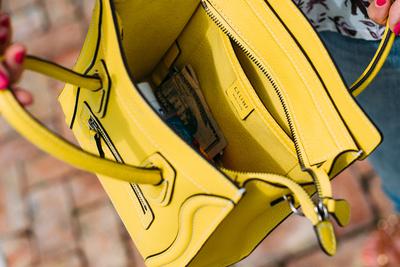 While the Celine Luggage Tote has reached total saturation, I still absolutely love the design of the bag. Let's face it: a bag will not reach such mass hysteria without there being something special about it, and the Luggage Tote is extremely easy on the eyes. Overall, this is a great bag. I love owning it and carrying it, I love how it looks, I love the color and Celine continues to release new versions of the Nano every season. If you are a fan of the design, you will not be let down by this bag, and if you love a good Mini bag, it's a great option.
source: http://www.purseblog.com/celine/purseonals-celine-nano-luggage-tote/6
Grab Your Celine!
Celine merupakan salah satu must have item di kalangan para artis. Alasannya karena tren dan desainnya yang menarik. Seiring dengan kualitas dan ketenarannya, harga Celine bag pun bisa dibilang fantastis! Bagaimana menurut Minasan?